Assurents Property Leasing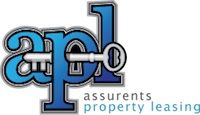 About
We guarantee your rent is paid -- on time, every time which makes renting your property with us a very unique and rewarding experience!
MISSION
Build and maintain a relationship of trust between apl and our clients by providing easy, worry-free, professional rental of their residential properties.
DESCRIPTION
Being a landlord can be challenging! Finding suitable tenants…collecting rent…those nagging late night maintenance calls are all challenges you're no doubt very familiar with! Teaming with apl frees you of these unavoidable headaches – letting you enjoy the freedom and rewards of renting your property without the hassles. Other companies promise problem-free property management, but fall short of delivering.
At apl, we're different. We guarantee your rent is paid -- on time, every time.
HOW WE DO IT
apl becomes your tenant. It really is that simple. As your tenant, apl assume's the responsibility of paying the rent. Be confident that your rent will be paid on time every month -- no questions, no hassle. It's all guaranteed!
Using our comprehensive background search and proven tenant qualification process, we will select a suitable tenant for your property. The tenant will deal only with us. You will never again be confronted with tenant-related issues! So sit back and relax! apl is handling everything for you!
QUESTIONS?
Email us at admin@assurents.com with any questions you have – we'll show you how easy it is to rent your property when you team up with apl!