7 Easy Home Improvements to Upgrade your Rental
Are you a landlord looking to get more value out of your rental? You can with easy home improvements! You have the ability to work with and enhance what already exists, and make it more appealing. Renovating your rental is the perfect way to increase the value and allows you to bump up the rent. Not to mention, your new and improved home will be more likely to rent out faster because of the appeal. Here are 7 easy home improvements to upgrade your rental.
1. Update Light Fixtures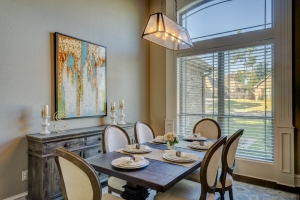 One of the easiest and most affordable home improvements you can do is to update light fixtures. Many homes will still have the same light fixtures from when the house was built. Everyone remembers the dreaded "boob light" fixtures, as well as the glass-decorated plates that covered dual light bulbs. Not only are these light fixtures out of date and out of style, they are inefficient! Replace and update your light fixtures so that they reflect the current style of your home (modern, rustic, traditional, etc.) and reduce the energy bill too!
2. Remove Old Carpet
There is nothing more undesirable than a rental home that has carpet from the 80s or 90s. Renters will often close listings because of unattractive home features! Rip up those green shag carpets and put in new, soft, neutral colored carpet instead. Your rental listing photos will draw in more prospective tenants and your home will rent out faster! Want to take your home improvements up a notch? Installing hardwood/laminate is an option that gives a home that brand-new feel. Everyone loves the look of wood!
3. Replace/Paint Cabinet Doors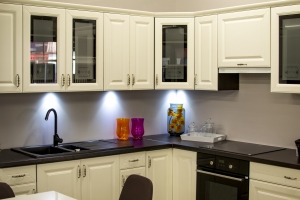 Does your rental property have plastic on each of the cabinet doors? Or perhaps they are an old oak colour making the home look dated. Give your rental home an upgrade by replacing or painting cabinet doors. If you have cabinet doors that are strange in size, shape, or design, it is best to replace them. On the other hand, if you have older oak finishes, painting these white (or other neutral colours) can remove that "old-fashioned" look from your home.
4. Knocking Down Walls
Many of the older model homes will have separate and closed off rooms. To upgrade your rental, you can make easy home improvements by knocking down walls (be sure they are not load-bearing!). People want a home where they can cook dinner and still mingle with people in the living room. Creating an open-concept home will increase the appeal and desire for the rental. Knocking down walls also gives your rental home more options for layout of furniture and space to move around. Perfect for those who are looking to host family and friends!
5. Replace Faucets and Shower Heads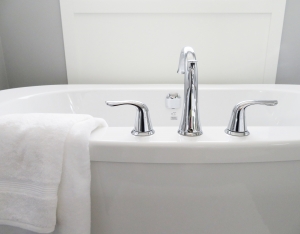 When a home has new and shiny accessories, it increases the value in a rental property. Replace all of those leaking, rusted, or calcified faucets and shower heads in your home. It is amazing what a new and styled faucet can do for a bathroom to remove the feeling of "aged" and "lived-in."
6. Drawer Cupboards
With all of the stuff people have, it is important to find a rental that has enough storage spaces. One of the many home improvements you can make to your rental is to add drawer cupboards. These are cupboards in your home (usually in the kitchen) that open up and have roll out drawers within them. These are space saving improvements compared to basic shelves, which limit the amount of space you can use. Not to mention, they are easy to access (no more crawling around in low and hard to reach cupboards!). Make this change and be sure to feature it in your rental images!
7. New Trim and Paint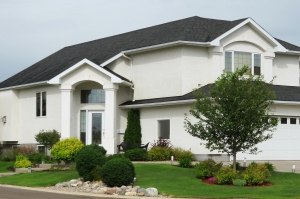 If your rental is a condo, house, or townhouse, curb appeal is one of the driving forces that will 'sell' your home. People like to be proud of the home they are living in, and the exterior is the first thing anyone sees. Give the front of your home an upgrade and purchase new trim and apply a new coat of paint. Something as simple as freshening up the paint will drastically brighten the home from the outside, making it appear new once more.
Once you've completed these home improvements, Rentfaster will come to your rental and take new professional photos for your listing for only $30! Ensuring that potential tenants see the value right away!