Feature Community: North Vancouver's Lower Lonsdale
If you are in search of a thriving and beautiful community within driving (or sea bus) distance to the downtown core, North Vancouver's Lower Lonsdale is just for you! This smaller community is found just East of the gorgeous Stanley Park. Lower Lonsdale is the ideal location for those commuting downtown (45-minute bus ride, 25-minute drive, or 15 minute sea bus ride) as well as for individuals interested in recreational activities. There are 11 rentals available in this community on Rentfaster.ca, consisting mainly of apartments. The average cost of rentals in the Lower Lonsdale community is $2,355. Homes in this area are right next to the energy of the community's coastal hub and have a spectacular view of Vancouver city across the water!
In addition to the easy access to green spaces and the core, Lower Lonsdale has many attractive features itself. The Lower Lonsdale Quay Market is one of the main attractions of this Northern Vancouver neighbourhood. Looking out over the Vancouver Harbour, the market has a West Coast style featuring over 80 different shops, as well as a shipyard and pier. Come and peruse the shops, try the coastal foods at some amazing restaurants (including local seafood), and enjoy the beautiful view of the Vancouver skyline.
Local Lonsdale also has a number of amenities and services available to those in the area, reducing the need to drive too far from the community.
If you are looking for a community that will allow you to be engaged, attend local events, and see the sights without driving too far away, Lower Lonsdale is just for you! The Lower Lonsdale community is a prime location for busy entrepreneurs, downtown workers, and those families looking to stay engaged in the local community! Check out Rentfaster.ca to view the listings of North Vancouver communities and find your rental today!
Looking for a rental nearby? Check out this beautiful and modern Northern Vancouver rental home!

OFFICIAL CONTEST RULES for the Lower Lonsdale Local Business Giveaway on Facebook (November 15, 2017)
No purchase is necessary and winner will be chosen in random draw. Each comment gives one entry; multiple entries per person allowed. Contest is open to any British Columbia resident over 18 years of age. Contest is open until November 30, 2017 at 11:59 PM. Prize includes a free 2-night stay & bath for your pet at North West Kennels and Daycare, Gift Certificate for music lessons with Tony Chote, $100 in hair products from LoLo Salon, a $50 gift certificate towards In the Raw Pet Food No substitutes or cash replacement allowed. Skill-testing question required.
Winner will be contacted via Facebook within one week after contest close and has one week to respond to claim prize or a new name will be selected. Odds of winning depend on entries. Gift basket will be delivered via mail to winner's address within six weeks of accepting prize via Facebook or email.
This promotion is in no way sponsored, endorsed or administered by, or associated with, Facebook. We hereby release Facebook of any liability.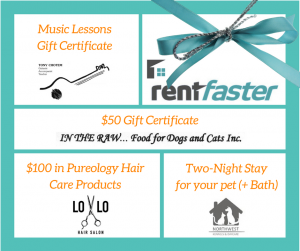 Northwest Dog Kennels and Daycare
Website: http://northwestkennels.com/
Facebook: https://www.facebook.com/northwestkennelsanddaycare/
Inatagram: https://www.instagram.com/northwestkennelsanddaycare/

In The Raw Food For Dogs and Cats Inc.
Website: www.intherawpetfood.com
Facebook: https://www.facebook.com/In-The-Raw-Food-for-Dogs-and-Cats-Inc-1712960102285217/

LoLo Salon
Website: http://www.lolosalon.ca/home.html
Facebook: @lolosalonnv
Instagram: @lolo_hair_salon
Tony Chotem
Website: http://www.tonychotem.com/teaching.html
Website: https://www.sonicbids.com/band/doublehelix/
Facebook: https://www.facebook.com/tony.chotem & @doublehelixjazz
Sources:
http://vancouversnorthshore.com/things-to-do/neighbourhoods/lower-lonsdale/