10 Questions to Ask a Potential Landlord
Renting a home involves a lot of trust on both the landlord's part and the renter's. There are many different topics to discuss to ensure that both parties are on the same page. When a tenant does not ask enough questions, misunderstandings and problems can arise. As a renter, it is crucial that you know every term included in the rental agreement and are fully knowledgeable about the expectations of your potential landlord. Take the time and ask questions about the lease, payments, inclusions, etc. Even if you are 80% sure you know the answer, it is good to ask and be completely confident in the answer, the landlord expects it. Here are 10 questions to ask a potential landlord before you sign on the dotted line:
1. What is the breakdown of the rent?
Often times, renters look at the price of a rental and assume that it covers everything they need. However, the price you see is often only the price for rent itself, and utilities, internet, cable, and additional parking fees are extra. When discussing the agreement with your landlord, ensure you cover the entirety of what is and is not included in the rent. It would be a very unwelcome and costly surprise to sign the agreement and suddenly find out that all of the above were not included.
2. Are there any additional fees?
Depending on what type of property you seek, there may be additional fees for certain features. If you are looking at an apartment, parking (as well as other amenities) may have an additional cost not included in the rent. These additional fees can play a larger role in determining if the rental fits your budget and you'll need to decide if these extra costs are worth investing in. For instance, if you own a car and indoor parking is an additional fee, are you willing to pay for a spot or take the risk of finding street parking each day? Having this information can also help when comparing rentals, perhaps where parking is an additional fee in once place, it is free in another!
3. What is the expected move in date?
Some landlords put up a listing and hope to fill it as soon as possible. When moves have a rush date it could be mandatory that you begin paying and moving in only a few days. If the landlord wants to fill the property right away, you need to consider the amount of time it would take for you to get the deposit, pay rent, leave your current residence, and find a way to move in. It takes a lot of effort and can be frustrating and stressful if you sign the agreement without flex-time. Ask your landlord the date they expect you to move in and if there is any flex time to put a deposit down to hold the rental, but move in (and begin paying) a couple weeks later.
4. What are acceptable payment methods?
One of the most important questions to ask your potential landlord is what types of payment they will accept. Some landlords may request a specific method to help them manage their accounts, while others may be picky about ensuring they get it at a specific time. Ask the landlord if they accept all methods (cash, cheques, e-transfer, bank transfer, etc.) or if a certain type of payment is preferred. This is important for those who do not have easy access to bank (as it will add a monthly errand) but their landlord requires it. Double checking with them will avoid later confusion and problems.
5. Are inspections made regularly?
One of the most common complaints about renting is the delayed response time to a problem in a rental. There is nothing more frustrating than reporting an issue to your landlord (leaky sink, wiring issue, etc.) and not having it attended to. One way to avoid this problem is to ask your landlord prior to signing the agreement how often inspections are made. An organized landlord who is on top of property maintenance should have a schedule to regularly check rentals and have them upheld. It is also good to ask your landlord what the procedure is for inspections – do they notify you beforehand or do they knock on the door and enter at their convenience? How do you submit a claim? Having this information can prepare you for the system your landlord uses to run the property.
6. Is the rental pet friendly?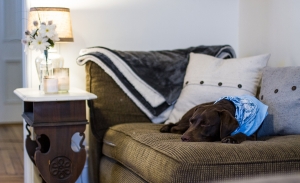 If you have a pet, one of the most important things to consider asking your landlord is if the property allows pets. Unless you plan to leave Fido behind (which we highly doubt), knowing the rules and restrictions for pets at the property can help you determine if the rental is right for you. Thankfully, for those using Rentfaster.ca to find their rental, all listings clearly identify if they are pet friendly. This makes searching for the perfect rental easy, as you can select certain search parameters to find only the rentals that allow animals. It is also important to discuss the expectations around having a pet on the property. There may be certain areas that your pet has access to or limited areas where your pet is allowed to use the washroom. Some rentals are even specific on the size of pets they allow. Clarify this so you and your furry friend are sure you are moving into the perfect place!
7. Is there a guest policy?
For those who have active social lives and enjoy hosting parties and having family come over, it is good to be aware of property guest policies. Depending on the type of property you seek (apartment vs. house), there may be rules and limitations to having guests over. Some properties have limited parking that could present a problem. For other close-proximity properties, there are quiet hours that require you to keep late-night conversations to a minimum. Ask your landlord all about the policy on guests to ensure that if your long-lost noisy cousin comes to stay over for a week that it does not result in an eviction notice.
8. What are the rules for decorating the property?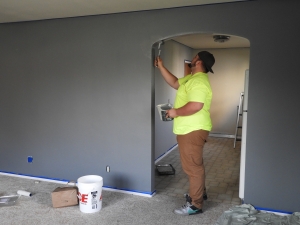 Some landlords will not allow any permanent changes to the property. Changes such as painting, hanging pictures, installing technology on a wall, etc. however, may be allowed. If you are looking forward to personalizing your space, it is good to ask your potential landlord what changes are permitted. If the changes are not acceptable, this can help you decide if you like the property enough as it is. If not, then you may want to continue your rental search. Knowing the limitations and rules for decorating can also keep you informed so that the changes you do make will not affect your deposit. Don't get caught in forgetting to ask and then finding out months later that the changes you made will deny you from receiving your safety deposit back.
9. Are there any improvements or renovations planned in the near future?
Although this may seem like an unnecessary question, being aware of any changes to the building could save you a headache. If the landlord plans on doing construction or renovations in the next few months, noise and disruption are expected. By taking the time to ask your potential landlord, at least you are aware that the property will be loud with the process. This can be extremely significant for those with small children or individuals who work at home as the noise could present as a serious problem.
10. What is the timing on the lease?
Discussing payment inclusions and method is one thing, but you should also ask your landlord about the timing on the lease. Not every rental will have a month-to-month payment and some will ask for a few months in advance. Some landlords will also require a tenant to commit to a two-year lease. If you are only planning on living in a place for one year before moving elsewhere, a rental with advanced lease will not fit your schedule. No matter how much you love the property and it matches your requirements, a longer lease will present as a problem. It is not against any rules to try to speak with the landlord about a shorter lease. Maybe they think you will be the perfect tenant and will happily make an exception. Just be sure to consider all aspects of the lease so that when you sign on the dotted line at your perfect rental it fits your timing.